I HOPE YOUR AZZZ FROZE LAST NITE, LOSER
Heisman
Posts: 25082
Joined: Mon Feb 22, 2010 5:23 pm
---
It was colder than a well diggers a-hole. Furnace broke! Had to break out the propane heater and huddle up together in the main bedroom. It was the first true family night we've had in years! Was awesome actually! It'll be a shame when we get the heat back on. Yes I know, dad could put his foot down and demand a family night but you guys with teenagers know that's like herding cats. Much easier to just have heat in only one room. I'd refer to it as the passive approach to parenting. You guys know I'm a soft sell and a pushover mostly so I tend not to put my shoulder into parenting like some of you other guys.
Guys like 1st and Goal who told me once, "Any friend my kids bring over gets the talk the 1st time they meet me. Basically I explain to them that there's just a couple of rules while they're in my house that they are expected to follow. One of them is I don't wanna hear no 'nah' or 'huh' or 'uh huh'. It's 'Yes sir', 'No sir' 'Please', 'Yes mam', 'No mam', 'Thank you', and 'You're welcome.' Good stuff. If I had it to do again I'd probably do it Jeff's way.
Charles Jackson used to say about manufacturing "I'm a naturally lazy person! I'm gonna look for the easiest most efficient way to get a job done." Now clearly I don't take that approach when writing a post. A lot of people think less is more. Having a mathematical approach to my philosophies I personally and logically believe that more is more.
I'm a man who tries to live to excess but when it comes to the rubber meeting the road I'd rather just let the temperatures in each room dictate where my family chooses to settle. Kinda like a mathematical attractor: "In the mathematical field of dynamical systems, an attractor is a set of numerical values toward which a system tends to evolve, for a wide variety of starting conditions of the system."
An example of this in nature is a pile of dead leaves and trash clogging a storm drain. How did that happen? Did someone go through the effort of raking a bunch of leaves and trash and piling them up at the drain? Of course not. It obviously rained and the water carried the detritis to the storm drain due to the laws of physics. So having a broken furnace is just easier for me to get my family together than ordering them to do it. You got one room in the house warm enough for your teeth not to chatter out of your head? You don't have to tell anyone in the family anything. They naturally come hang out with you and don't even complain about it or sigh heavily or say, "OH MY GOD!" Haha.
Now about your insult, you essentially wished death on me and THEN called me a loser, although it is arguably accurate to describe someone frozen to death as a loser in the very "final" sense of the word. But as far as you making a reference to me in a thread title, are you a brain dead masochist or just being a fan girl? Please tell me you're not in love with me. It's not gay day yet you swamp water duck vagina. Because you act like one of those kindergarten girls who tries to beat up the boy she's actually got a crush on and you sure do follow me around a lot. You've been aroud long enough to know that any thread title that references me either goes really well or really unwell for the author depending upon their intentions. Here's an example of each...
Bad judgement:
viewtopic.php?f=6&t=27058
Good Judgement:
viewtopic.php?f=6&t=20489
See how that works?
Have a great weekend! Stay warm!
Btw, I saw your house on Facebook. It truly is a sht hole. Except I've pinched one in some awful situations and I would drop a load in the woods before I went into that hut. I mean I got some stool stories to tell! Had to crap once at Dawg Gone bar on the east side. Sparty's probably been there, then again maybe not. It closed down about a decade ago. My band used to play there every month back in the early 90's.
I always managed to avoid having to drop a deuce at Dawg Gone's because everyone there knew the situation. There was one bathroom. It had respectively a sink beside a urinal beside a toilet and NO stall and not even a partition and no way to lock the door. That's right. Any poor soul unfortunate enough to find himself so compromised that he had to go "conduct a movement" in there was basically playing a dookie/penial version of Russian roulette.
Yep, in the tradition of pitching a show to Hollywood execs I'll use the tried and trusted approach of of saying, "Picture the movie Final Destination!"
*holds up hands palms out as an excited and dramatic flourish for effect
"Except instead of death relentlessly pursuing you, it's some kind of shtty version of fate. You manage to stay one step ahead of it but in the end (pardon the pun) it's just a numbers game. Every time you step into this bar it's a roll of the dice. There's let's say a one tenth of a one percent chance that UPS will come knocking on your back door while you're in the bar. Well you get it. If you roll 5 dice enough times you'll eventually get a Yahtzee (although it might surprise some of you how rare a true natural Yahtzee is.) Anyway eventually fate gets her revenge (I associate fate with the female gender because fate brought me my lovely wife.)"
That's right, your's truly eventually rolled the proverbial snake eyes and I had to ride that ceramic bus one night. And fate was not kind that night. In fact she was pretty damn vindictive (again, pardon the pun). Yes, while laying some cable myself, some other poor soul who had to drain the snake as desperately as I had to make a grunt sculpture opened the door desperate not to wet his pants. There I was, pants around my ankles, making a log entry, when some stranger entered the bathroom to take Mr. Johnson for a walk literally about 12 inches from my head. What a shameful and awkward moment for two heterosexual guys! We didn't speak (an older me and wiser me would have made a joke to lighten the mood and cut the tension).
Keep in mind though, this was when I was in my mid twenties and still quite withdrawn and naive. The older me probably would have just went all Louis C.K. on the poor bstrd and said something like, "Hey, nice penis!", just to see him sweat but I wasn't ready for the social highwire act under the big top like I am in my mid 40's now. That would have required a certain boldness and confidence that I did not possess then.
No, I just stared to the left while I strained and he stared to his left while the both of us counted the seconds until the moment was over. It was truly like being underwater and holding my breath except for the obvious fact that surely he was the one truly trying not to take a breath because though sht got real for the both of us, add to that psychological trauma an olfactory crisis for him and...well...let's just say the least Marshall (the bar's owner) could have done was keep a lit candle in that telephone booth of a bathroom. Luckily it was a brief moment and I managed to endure it without seeing one close up.
The astute and clever reader at this point will probably quip something like, "What? Is it really that hard not to look? Just what exactly would even tempt you in the first place"
To which I would answer, "Umm...in the same way it takes a concious effort not to look at an awful automobile accident or a burn victim at the food court. Duh!"
And then there was the time I had to Sjvsdtta en barkbet (Swedish) at a Hardee's on the way back from Virginia Beach in the middle of the night. Though it looked like the place was infested by sketchy clientele that night when we pulled into the parking lot I nevertheless was either going to have to mitigate a socially risky decision or face an enevitable mud slide in my pants and I chose what was probably the physically riskier decision rather than have to deal with trousers full of poo. Other posters have been in the same situation! You know who you are! Risking your physical safety, maybe even your life for the opportunity to avoid a runny brownie in your underpants.
Yes I bravely walked through a parking lot of hostile acting patrons and entered an equally rowdy Hardee's for the purpose of quickly and discreetly making a deposit of bum gravy. And then my worst fears come true and two of the hooligans follow me into the bathroom and demand money from me from the other side of the stall. Then when I make my desperate and humble plea for them to be cool and rational they dump a trash can of garbage on me from above the stall while laughing at me. Apparently either they were just out for some relatively harmless fun or I was cool enough and humble enough to talk my way out of an escalation of the situation because after the trash dump they left the bathroom cackling which I considered relatively merciful.
Needless to say my sphincter was tighter than a camel's *** in a sandstorm during the whole experience and I wasn't able to relax enough to ride the hoop successfully. Doubly sad, I had to make the walk of shame back through the restaurant and out the door to a fully informed and highly amused restaurant full of customers by that time. And I had to manage it with a still fully loaded and cocked (insert joke here) large intestine. Trust me, I wasn't whistling by the graveyard that night! I very quickly made my way through the parking lot and back to the car and uttered, "Let's go. Now. I'll sht later."
The relieved car full of people expressed their relief and relayed their own account of a fear layden 10 minutes.
Then there was the time that I grabbed my paycheck at work on a Friday afternoon and me and Ron tore off down the road to the bank to cash our checks and then head straight to Asheville to play at a bar. We get to the bar and get setup and then it's "hurray up and wait" until showtime. Well as you probably already guessed nature calls to let me know I have to curl some pipe right away before I packed my underwear! So I go into the bathroom (which mercifully has an actual stall) and launched a landing party to the watery planet. Problem here was...yep...you guessed it....NO PAPER PRODUCTS!
No toilet paper in the stall. So I did what every red-blooded American has done once in his life, I waddled around the bathroom hunched over with my drawers around my ankles looking first for toilet paper and then promptly for ANY paper. No paper towels! Just an electric hand dryer. (Yes the scene from Mr. Mom occurred to me.) I checked the trash can for any salvageable paper and of course it was empty.
So I waddled back to the bowl and did my best thinking man pose. My mind went into project status mode. Then I pulled out my wallet and started pouring through the contents. There was a wad of dead presidents but I wasn't that desperate just yet and it just seemed rather indulgent like something Trump would do. THEN I discovered the check stub from the check I'd just cashed before leaving Spartanburg. I tore it into 3 equal pieces and carefuly used each piece to it's full potential. Got the dark valley functional enough for me to put myself back together and head back out of the bathroom and straight to the bar where I could get a proper supply of appropriate paper products. Then I headed back to the bathroom to finish the job in a more thorough fashion.
I say all that to say this:
I'd rather make room for lunch in any of those three situations than consider using your hovel. Not that I'd ever have the chance because being a Vampire, I'd have to be invited into you "house" and we both know that's not going to happen (to the satisfaction of both of us. Truly mutually beneficial you″d agree.) Anyway I just thought I'd share those thoughts since you were considerate enough to share yours.
While we're on the subject of mythical creatures I'd rather be a Vampire than Bigfoot. Vamps are eternally youthful (it doesn't hurt that we don't get much sun-it wrinkles your skin) and based on every Vampire movie we get a boatload more *** than any Bigfoot film I've seen. There's no doubt in my mind this analogy plays out in real life also.
Stay cool and take care of Pengy and his peeps. Say hello to all my buddies down there (you need not say that to yourself if you extrapolate logically and yes I realize there was no need to mention that). If anyone down there turns into a popsicle I will hold you personally responsible.
Kisses. Now download that into a needle and inject it into your veins. Hope you enjoyed the sugar rush and indorphin jolt your tiny little brain receives from calling me out and electing a response from me. Hope you enjoyed my predictable little tap dance for the peanut gallery. My juggling act so to speak. But are you baiting a fish if he wants to get caught? I'll always indulge you in some smack talking because you are an amusing muse. I hope that didn't sound too clever because it was an organic accident. But seriously some of my favorite posts are my responses to your tickling of the dragons tail (bonus points for anyone who gets the reference). It was once said by a smarter man than I that "the inferior will ALWAYS attack the superior, they will ALWAYS throw rocks at you because you are smarter or stronger or more successful than them." Don't know if that's true. It's just something someone said once but!
You seem to prove that point every time you mention my name. You DO realize when ever a reference to me is made in the title of a thread that people start popping popcorn? Because after seven years of me on this site they hear the tornado sirens going off in the distance when someone wants to provoke me.
But seriously stay warm and take care of yourself
You should know I didn't mean any of the above. Just friendly smack talk so don't get all butt hurt. LOVE AND KISSES!
Peace.
Sincerely,
DeCav
P.S.
Please spare me the banal and tragically common response of "TOO MUCH INFORMATION!" Unless you have dementia you should have anticipated how rudderless and random I could get if you make the ill-advised decision to wind me up. I have more but I'll just wait for your BUMP.
"Ambition is a dream with a V8 engine."- Elvis Presley
All-American
Posts: 6434
Joined: Mon Feb 22, 2010 5:25 pm
---
Last edited by
CITYSLICKER
on Sat Jan 06, 2018 5:28 pm, edited 1 time in total.
Heisman
Posts: 25082
Joined: Mon Feb 22, 2010 5:23 pm
---
I used to play at the Dawg in the early 90's too
YOU CANT HANDLE THE TRUTH!
All-American
Posts: 6100
Joined: Mon Aug 22, 2011 8:07 am
Location: IN THE REAL WORLD
---
I have a strong indication that things are gonna get crazy in SC again soon. You might even be back on the drums.

What band? Any flyers?
"Ambition is a dream with a V8 engine."- Elvis Presley
All-American
Posts: 6434
Joined: Mon Feb 22, 2010 5:25 pm
---
[quote="DeCavelier"]I have a strong indication that things are gonna get crazy in SC again soon. You might even be back on the drums.

What band? Any flyers?[/quote]

Nothing big just some start up band's getting our kicks on Wednesday jam night.
I was a member with a band that got some Saturday night gigs there, plus a cousin of mine used to sing in Riff-Raff as well as others that occasionally hit that stage
YOU CANT HANDLE THE TRUTH!
All-American
Posts: 6100
Joined: Mon Aug 22, 2011 8:07 am
Location: IN THE REAL WORLD
---
Oh man, let's play the word game!

Fool's Society
Homeboy Madhouse (became popgun)
Matthew Knight
Reverend T-90
Albert Hill
BlightObody
Sisters new boyfriend
Sanders Morrison
DIG

They're all on our old flyers and newspaper clippings.
"Ambition is a dream with a V8 engine."- Elvis Presley
All-American
Posts: 6434
Joined: Mon Feb 22, 2010 5:25 pm
---
Sanders was that loungey host on Wed night jams.
"Ambition is a dream with a V8 engine."- Elvis Presley
All-American
Posts: 6434
Joined: Mon Feb 22, 2010 5:25 pm
---
[quote="DeCavelier"]Sanders was that loungey host on Wed night jams.[/quote]

Yes he was a cool dude.
Those band names bring back old memories

Buzz Wah Red
YOU CANT HANDLE THE TRUTH!
All-American
Posts: 6100
Joined: Mon Aug 22, 2011 8:07 am
Location: IN THE REAL WORLD
---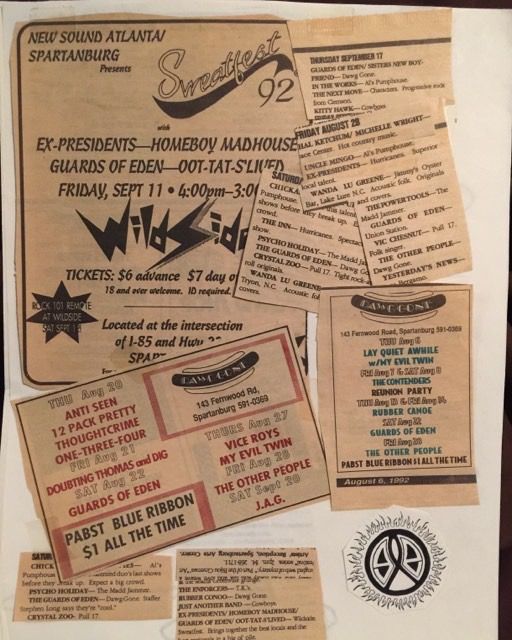 "Ambition is a dream with a V8 engine."- Elvis Presley
All-American
Posts: 6434
Joined: Mon Feb 22, 2010 5:25 pm
---
---
Who is online
Users browsing this forum: Google [Bot] and 10 guests